Jason Kidd is the new
head coach of the Brooklyn Nets
He is recently retired and now he is going to have a big job in the NBA as head coach for the Brooklyn
Nets.
He recently retired as a Knick how ironic, but he is one of the greatest players to ever play the game of basketball, past and present. Jason Kidd has set records from scoring, shooting 3's, assist and play off double doubles, but nothing as a coach. He also has a ring which he won with Dallas in 2011, and that's his only ring. He has no coaching experience and he now has a big position to fill. I can't say for sure if he will be good at coaching, but I know he would mentor these young point guards.
I think he is great at what he does personally, he seems like he really wanted this job and now he can prove to people that he will be great as a coach like he was as a player. The Net's didn't have a bad season this year, it was actually a really good year for them, after having their first coach fired and hiring P.J Carlesimo. I can't say for sure how great of a coach he will be but I know with the right team behind him, he can do very well. If he doesn't do well I feel like he will be another coach fired and replaced just like that. As many coaches in the NBA knows, this year so many coaches were fired that even if you win you can still be fired.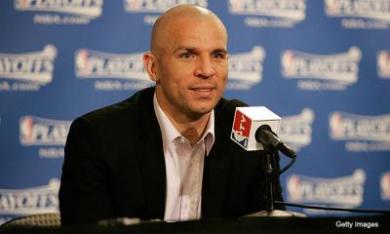 Let's see for the 2013-2014 NBA season how well he will do as head coach, but surely there is no pressure, he doesn't have any coaching experience.